In most cases, master baths accommodate two people at once. Hence, the most important design consideration is efficiency, making sure there is enough room for two people to move. The aesthetic comes next. If you are looking for ideas on how to design your master bath in such a way that it combines both form and function, we got you covered in the rest of this article.
Install a Freestanding Bathtub
For the best bath tub ideas, consider one that comes with a freestanding design, such as what you can find at Badeloft. This is a good choice if you have the luxury of space. It adds a hint of elegance in the master bath, giving it a high-end and spa-like ambiance. If the bathroom is huge, consider a freestanding bathtub that can fit two people at a time.
Check out badeloftusa.com for a great selection of tubs that are perfect for your master bath.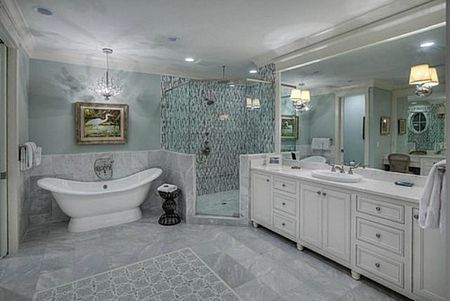 2. Hang a Gorgeous Mirror
The master bath will be incomplete without a mirror. This is not just a functional piece, but it is also a great way to improve the aesthetics of the bathroom. Plus, if the room is small, the mirror creates an illusion of a bigger space. Go beyond the traditional rectangular mirrors. Add flair to the bathroom by picking a mirror with a unique shape and beautiful frame.
3. Go for a Rustic Theme
To create a dreamy bathroom, one of the best things to do is to implement a rustic theme. It gives the master bath a distinct charm. Exposed wood cabinets and a wood drop-in tub are sure to make the bathroom more beautiful. An elongated chandelier will also make an excellent statement piece.
3. Build an Open Shower
An open shower concept is a good idea for a modern master bathroom. It is also perfect to make the most out of the available space and prevent the bathroom from being cramped. It gets rid of the walls and enclosures, so there is more room to move. However, if you want an open shower, carefully plan ventilation in the bathroom to deal with humidity.
4. Install Radiant Floor Heating System
No one wants to get out of the shower or bathtub walking on the cold floor. For your comfort, radiant floor heating is a good luxury to have in the master bath. It uses an energy-efficient system to generate heat on the floors.
5. Bring Nature In
You might also want to consider the idea of building a nature-inspired bathroom. This makes the bathroom more relaxing. An easy way to do this is to add plants that can survive the humidity in the bathroom. Glass windows and ceilings are also great to let light in. Use sustainable materials, such as wood in your décor and bathroom furniture.
Take your master bath to the next level with our suggestions above. From installing a freestanding bathtub to adding elements of nature, there are many ways to elevate design and create a showstopping bathroom.