To prevent your beautiful kitchen from water, food as well as those oil splatters it is always better to have a backsplash that would protect your kitchen in the right way. There are a variety of patterns and designs of backsplash which are now available in the market and which could help you maintain and keep your kitchen clean and neat.
Check out the various backsplash ideas for your kitchen:
• Convenient pegboard: You can now create an efficient kitchen which comes with red steel pegboard backsplash. It is now very much easy and accessible to reach your kitchen utensils.
• Recycled materials: If you don't mind reusing the materials then you can even use your table top marble as the backsplash for your kitchen.
• Bold colors: Usually the most common colors used for the kitchen are white and the monotone but the latest trend is now to make use of pop red color which would come in a glossy finish. With such bright colors, you can make your kitchen much lively and colorful rather than the classic light colors.
• Light marble colors: Make sure to choose right color coordination's so that you would now be able to get the best cabinets, columns, marble backsplash or the table top.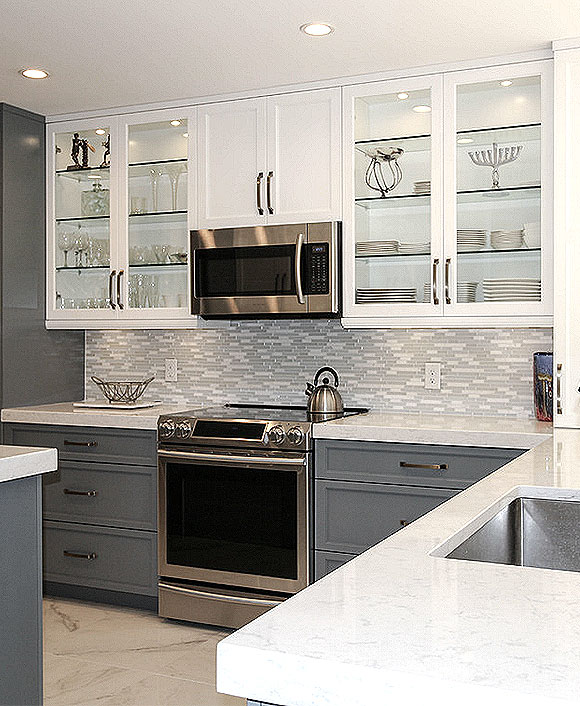 • Mosaic which has been inspired by nature: You can even go for the wave-like backsplash which has been inspired by the waves of the river. Each of these tiles must be hand cut and would be the best ones for your kitchen.
• Painted glass: The painted glass backsplash would be the best ones to go with. There are numbers of colors available from which you can choose the best suitable one that would be perfect or your home and kitchen interiors. The glass finish would give an extra effect to your kitchen and would enhance the appearance of it.
• Aluminium: Certain kitchen owners have also opted for the aluminium backsplash for their kitchens. This is one of the most inexpensive backsplashes for your kitchen and these have been texturized using the ball pen hammer.
• Go- geometrics: If you want to get a geometric and graphics look or charm you can go for this backsplash which would come with grey, white and mustard hydraulic imitated tiles.
• Brass niche: This is actually a niche kitchen backsplash which has been polished by brass. It would best suit kitchens which have the interiors with colors like black, spare or the minimalist interiors.